👻Halloween is on a Monday 31 October in 2022
Halloween ( 31st October every year) is a time when people can relax and go out and enjoy a fun evening. You can get dressed up and join in the celebrations by attending organised Halloween events or gatherings with friends and family.

Halloween – Trick or Treat?
On 31st October, children dressed in costumes knock on their neighbours' doors and yell, "Trick or Treat" when the door opens. If they don't receive a treat then they play a trick on the person. The tricks are harmless and fun for everyone. Black and Orange are common colours used for Halloween.
Halloween 2022
If you are limited in your movements because of restrictions where you live  you can still have fun getting yourself and house decorated this Halloween. You may or not be able to do "Trick or Treat" this year, but you can still decorate inside and outside your house, watch spooky scary movies, make halloween  sweets and goodies and do some pumpkin carving.
How to avoid getting COVID-19 this Halloween?
Follow the guidelines/ rules of any restrictions that are in place for your location.
Avoid crowds, and stay away from big indoor/outdoor parties
Keep up the good hand hygiene
Wear masks
Trick or treating – Contain to small groups of  children
Handing out treats is best kept it to one adult only, and this is not the year to put a big bowl out for children to help themselves!
Sanitise, sanitise and keep clean.
What are the Rules for trick or treat?
Always go in a group with a responsible adult in charge
Only knock on doors of people you know
Say "thank you" if you do get a treat. Don't eat treats that are not in their original packaging.
Don't play tricks that are dangerous or that could cause damage.
What are some popular in Halloween Costumes?
Halloween is all about getting dressed up in scary costumes and going to parties or trick or treating. Popular costumes include witches, ghosts, vampires, skeletons, the devil and black cats.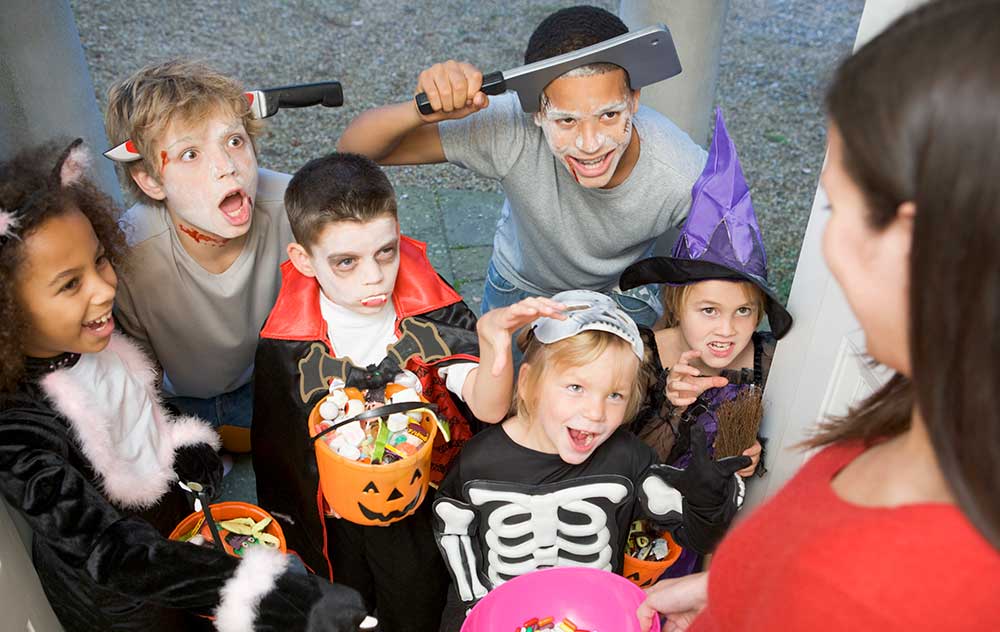 Halloween traditions and events include dressing up in costumes, going trick or treating, and carving pumpkins.
Halloween is around the end of summer and the beginning of autumn in the United Kingdom and is a time when people can relax and go out and enjoy a fun evening.
TOP 8  Halloween Costumes
🧙Witch- long black robe, tall black pointed hat, false nose and fingernails and a broom.
👻 Ghost – An old white sheet with holes cut out for eyes
🧛 Vampire – false vampire teeth, fake blood
💀 Skeleton – Use your imagination!
🐈 Black cat – Black tights, a black top and some cat ears – with your face painted like a cat.
👹 Devil – Dress in red with a devil mask and horns.
🍿 Celebrity – From Elton John to David Cameron, the top celebrities are often impersonated by people celebrating Halloween.
🧛🏽‍♂️ Zombie – Dress in old ripped up clothes. Use makeup to paint your face a sickly-looking shade of white, grey, purple, or green. Make the hollows of your face darker colors, mess up your hair. Apply fake blood to your face, head, and body to create the look of wounds.
🎃 Pumpkins for Lanterns:
How do you carve a pumpkin for Halloween?
Lanterns made out of hollowed out pumpkins with scary faces cut out of them, were thought to keep away demons and evil spirits and scare away any witches at Halloween time.
🎃 How to carve a pumpkin for Halloween
Select a large pumpkin to make your lantern.
Using a sharp serrated knife cut off the top of the pumpkin.
Scoop out the seeds and fibres with a large spoon. Then remove some of the flesh.
Draw a simple outline of a face on the pumpkin with a marking pen.
Cut out the eyes, nose and mouth with a small sharp serrated knife. Be careful not to cut yourself!
Place a tea light inside the pumpkin, light it and replace the crown.
🎃 What can you do with the Pumpkin flesh and seeds?
The flesh can be used to make pumpkin soup or pumpkin pie. The pumpkin seeds can be washed, and spread on a baking tray and baked in a hot oven till golden brown ( about 10 Minutes) for a yummy snack .
🕷The Halloween Season in the UK – Is it scary?
Halloween is considered to be one of the most important days for ghosts and spirits around the world, and especially in the United Kingdom. While Halloween is a special day for those who celebrate this sort of dark world,  there are several traditional reasons for this celebration as well. Halloween is the day before All Saints Day and is closely connected with many pagan holidays in Ireland.
Halloween is not only celebrated in the UK but also in Canada and the United States and the reasons for this celebration vary greatly. Some people take the holiday to just relax and enjoy a fun time. Others tend to gravitate towards the darker celebrations which include activities involving ghosts and spirits.
👹Where are Halloween Events in the UK in 2022?
Halloween in the City – Manchester
The city is filled with devilish displays and wicked offers from the biggest names in shopping, food, drink and entertainment. The city celebrates in style with spooky street decorations, thousands of pumpkin lanterns glowing in the trees and iconic city buildings turn a ghoulish green including the Town Hall, Manchester Central, National Football Museum, Selfridges and Harvey Nichols.
City Centre, Manchester, Greater Manchester
More Information: www.visitmanchester.com
Alton Towers Scarefest – Staffordshire
On selected dates in October & November, the Theme Park becomes home to Halloween, remaining open until late so you can enjoy your favourite rides in the dark plus loads of extra entertainment. For spooky young visitors, there are live shows and our famous freaky four to meet, whilst older families will enjoy our scare zone. For the bravest, dare you enter our terrifying scare mazes…
Towers Resort, Alton, Staffordshire, ST10 4DB
More Information: www.altontowers.com
Bram Stoker Festival Dublin
Dublin City  celebrates 4 Days of Living Stories & 4 Nights of Deadly Adventures. Whether you're a resident vampire or visiting from further afield, Bram Stoker Festival 2018 has something for everyone in its gothically inspired programme of events.
Dublin
More information: www.bramstokerfestival.com
What are some Halloween Activities?

Jack-o-lanterns
Carving out a pumpkin is one of the most popular parts of the Halloween celebration. Traditionally, Halloween has also been a sort of harvest festival to celebrate the bringing in of that summer's crop. The jack-o-lanterns which are carved as part of Halloween have the insides scooped out, and a candle is usually placed inside to emit a glow. The front face is cut out to resemble a face complete with eyes, nose, and mouth.
💀 Halloween parties.
There are  parties held all over the UK which are based on the celebration of  Halloween. Usually held at night some parties have specific themes, while others are a free for all when it comes to scary costumes.
🤡 Decorate the home or office.
Spiders, cobwebs, skeletons, and ghost figures are all used to decorate homes, offices, and other locations in the UK.
History of Halloween in the UK
Halloween is based on a series of holidays in the United Kingdom which can be traced back hundreds of years to the 16th century. In Ireland, the end of summer festivals which recognised the harvest season was the precursors to the Halloween holiday that is known today. However, the name of Halloween first appeared in Scotland, not Ireland. From this time, it is known that some sort of fun festival was held on this day. However, the idea of dressing up in costumes came around later in books published in the 17th century.
Orange symbolizes autumn and the harvest, and black is the color of death – the colors are reminders that Halloween was once a harvest festival and a festival of the dead.