Christmas Day is on Saturday, 25 December 2021
Monday 27 December  Christmas Day (substitute day)
Christmas Day in 2021 falls on a Saturday and Monday 27 December  is a substitute day. Christmas Day is celebrated in England, Ireland, Scotland and Wales on December 25 each year.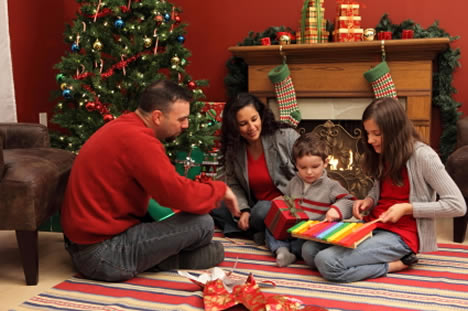 On Christmas Day children wake to see if the legendary "Father Christmas" or "Santa Claus" has filled their stockings with presents. Families join together and celebrate by exchanging gifts found under the Christmas tree and having festive meals together. While the family sits and eats Christmas dinner together, they usually catch up on what has been happening in the past month or year.
Christmas Day in the UK is a time when family and friends get together for special times. Others take the time to reflect on the religious significance of the day, attributed to the birth of Jesus Christ. Church services are held on Christmas Eve and Christmas day providing an opportunity to celebrate with family and friends.
Christmas decorations are put up in homes, streets and businesses at this festive time of the year.
A Christmas Tree can be any size – from small to large and is found in most homes at this time of the year. The Christmas tree is usually an evergreen such as a spruce, fir, pine, or hemlock. Some families choose to use artificial trees – the fibre optic trees are beautiful and can be found in many colors. However, many families still opt for the traditional authentic tree which is cut down every winter season.
Christmas tree decorations
Once the Christmas tree is up then the decorations can go on. Christmas tree lights usually go on first followed by ornaments, and then the tinsel.
Christmas lights
Christmas lights are possibly one of the most important details of the entire Christmas tradition. Having lights up all around the Christmas tree and the house is essential. These lights can be found in a number of varieties, such as blinking lights, coloured lights, or solid lights as well.
Avoid the Crowds Shop Online!
Shopping online has become very popular and with so many suppliers and such a competitive market, gifts and presents are available in many cases right up to Christmas Day.
Check on retailers websites for the final date for ordering to ensure delivery prior to Christmas.
Great last minute gift ideas are Gift Certificates, Flowers and Books.
There are a huge variety of books available online. These can vary from sporting topics including basketball, cricket, baseball, boxing, cricket, cycling, darts, netball, rugby, swimming, soccer or table tennis.
Gift certificates can be purchased for books, baby gifts, homewares, mens and ladies gifts, outdoor gifts, gourmets and hampers, Christmas decorations, wine, games or puzzles.
Another great suggestion is to buy flowers online and have them delivered the same or the next day. There are many great deals online for various flowers, bouquets, roses or shrubs that are great for last minute gifts.